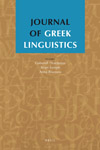 An article in the current issue of the Journal of Greek Linguistics by Francesco Mambrini and Marco Passarotti illustrates well the tremendous benefit provided by the development of electronic treebanks for the Ancient Greek data. Mambrini and Passarotti examine subject-verb agreement with coordinated subjects and bring to bear on the problem a breath of data that would have proved inaccessible only a short time ago.
Whether or not you agree with Mambrini and Passarotti's conclusions (that partial agreement—where one of the coordinated subjects rather than the entire coordinated phrase controls the number of the verb—is "more than a mere deviation from a rigid syntactic behavior" and that "semantic and discursive factors influence the choice" between possible controllers of the verb's number), you now have the amass a very large amount of data to argue with them, and the tools needed to amass that data are much more available than they were even a few years ago.
Mambrini and Passarotti used two annotated treebanks. The Ancient Greek Dependency Treebank (AGDT), part of the larger Ancient Greek and Latin Dependency Treebank (AGLDT), was created in 2009 and is the first syntactically annotated corpus of Greek literary texts of the Archaic (Homer, etc.) and Classical Age (Bamman et al. 2009). PROIEL, a project better known to many of us working with the Hellenistic data, is a project from the University of Oslo that provides aligned treebanks that can assist with translations of the New Testament in a broad spectrum of Indo-European languages (Haug and Jøhndal 2008). In addition to the New Testament, though, PROIEL includes a selection of other prose texts. The morphological and syntactic annotation of Herodotus, for example, is ongoing.
Mambrini and Passarotti's use of these syntactic treebanks foreshadows what is certain to be the norm in future research on Ancient Greek. We are all greatly indebted to those who have put the time into developing the databases that will serve and greatly expand our research in the decades to come.
I've added the article to A Comprehensive Bibliography of Hellenistic Greek Linguistics.