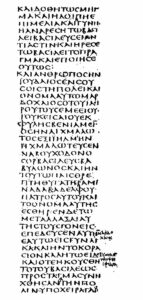 Originally published on December 27, 2010: Punctuation in Ancient Greek
Recognizing that readers of this blog represent various levels of competence in reading Ancient Greek and levels of familiarity with Hellenistic Greek texts, I am posting an email I wrote to a user of Greek-Language.com back in 2005 in response to the question, "Did Ancient Greek use punctuation?" If you already know the answer to that question, just skip this post! (Or better yet, comment!)
On Mon, August 29, 2005 I wrote regarding punctuation in Ancient Greek:
Dear _________:
Thank you for your letter. Your question is an interesting and important one, and we have considerable evidence with which to answer it.
The ancient Greeks did not have any equivalent to our modern device of punctuation. Sentence punctuation was invented several centuries after the time of Christ. The oldest copies of both the Greek New Testament and the Hebrew Old Testament are written with no punctuation.
In addition, the ancient Greeks used no spaces between words or paragraphs. Texts were a continuous string of letters, with an occasional blank line inserted to mark the end of a major section, though even this was not always done.
They also had no equivalent to our lower case letters. Texts were written in all capitals.
While this clearly creates some challenges for Bible translation, those challenge are seldom very large. As a simple test, try reading the English text in the following line:
WHATDOESTHISSAY
With very little difficulty you can probably tell where the spaces should be and what kind of punctuation belongs at the end. You can tell this because you are a native speaker of the language in which the text is written, so you can easily recognize the words as well as the implication of the word order. Native speakers of Ancient Greek, in the same way, could recognize where one word ended and another began even though the spaces were not written. They could also distinguish a question from a direct statement without the need of punctuation.
Here's the real problem: You and I are NOT native speakers of Ancient Greek.
While I read Ancient Greek quite well, I did not grow up speaking it. All modern scholars, including those who grew up speaking Modern Greek, are in this same situation.
When there is more than one possible way of dividing the words in a sentence or paragraph, or when there is more than one possible set of punctuation, we must look for clues as to what the author intended in order to correctly determine which is the correct division and what punctuation the author would have used if it had been available.
Of course there is an element of subjectivity in this process, but many scholars have dedicated the better part of their lives to reading the Biblical documents in the original languages and have come to have a good sense of the style and preferences of each author. As we develop this skill, it becomes easier to see what the author would most likely have intended in each of the few places where a sentence could be divided more than one way.
If you do not read Ancient Greek and Hebrew, it is important to compare various translations to see what the options for punctuation might be. Then you should ask yourself which punctuation results in something that the author would most likely have said. This may not always provide you with the correct answer, but it will be a valuable learning experience.
Thank you again for your letter. I wish you well in your studies.
Micheal W. Palmer
Greek Language and Linguistics Gateway
A few years later, I posted two other discussions of punctuation in Ancient Greek. You can find them by following the links below:
Another topic tangentially related to this one is available here: Usage of καί.
Important! [Added Jan. 19, 2015]
While the earliest manuscripts of the biblical texts did not contain punctuation, it is usually clear to a competent reader of Ancient Greek where the punctuation belongs.
It is a serious mistake to assume that the absence of punctuation in those manuscripts means a person who does not read Greek is free to choose where to put the punctuation in an English translation. To make decisions about where the punctuation belongs it is necessary to read Ancient Greek very well. Many options that would seem to be available in an English text are ruled out by the structure of the Greek text.