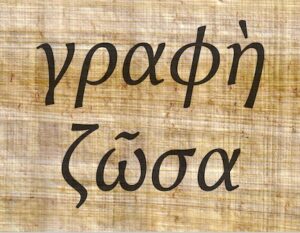 I'm looking forward to tomorrow (November 19, 2016)! Jonathan Robie and I will present our ongoing work on the communicative Koine Greek course, γραφὴ ζῶσα. Our presentation will take place at the 1:00 pm session of the Global Education and Research Technology section of the Society of Biblical Literature (SBL).
We will demonstrate the results of combining technology with best practices in second language instruction, where even an ancient language can become a living language for those acquiring it.
We are in San Antonio, TX with a very large number of Biblical Scholars, but our presentation will attract mainly Linguists, Greek Teachers, Software Engineers, and Open Data Geeks. The American Academy of Religion (AAR) is also meeting here. The SBL and the AAR have jointly coordinated their national meetings for many years.
We would love to see you at 1:00 in room 209 of the Convention Center.